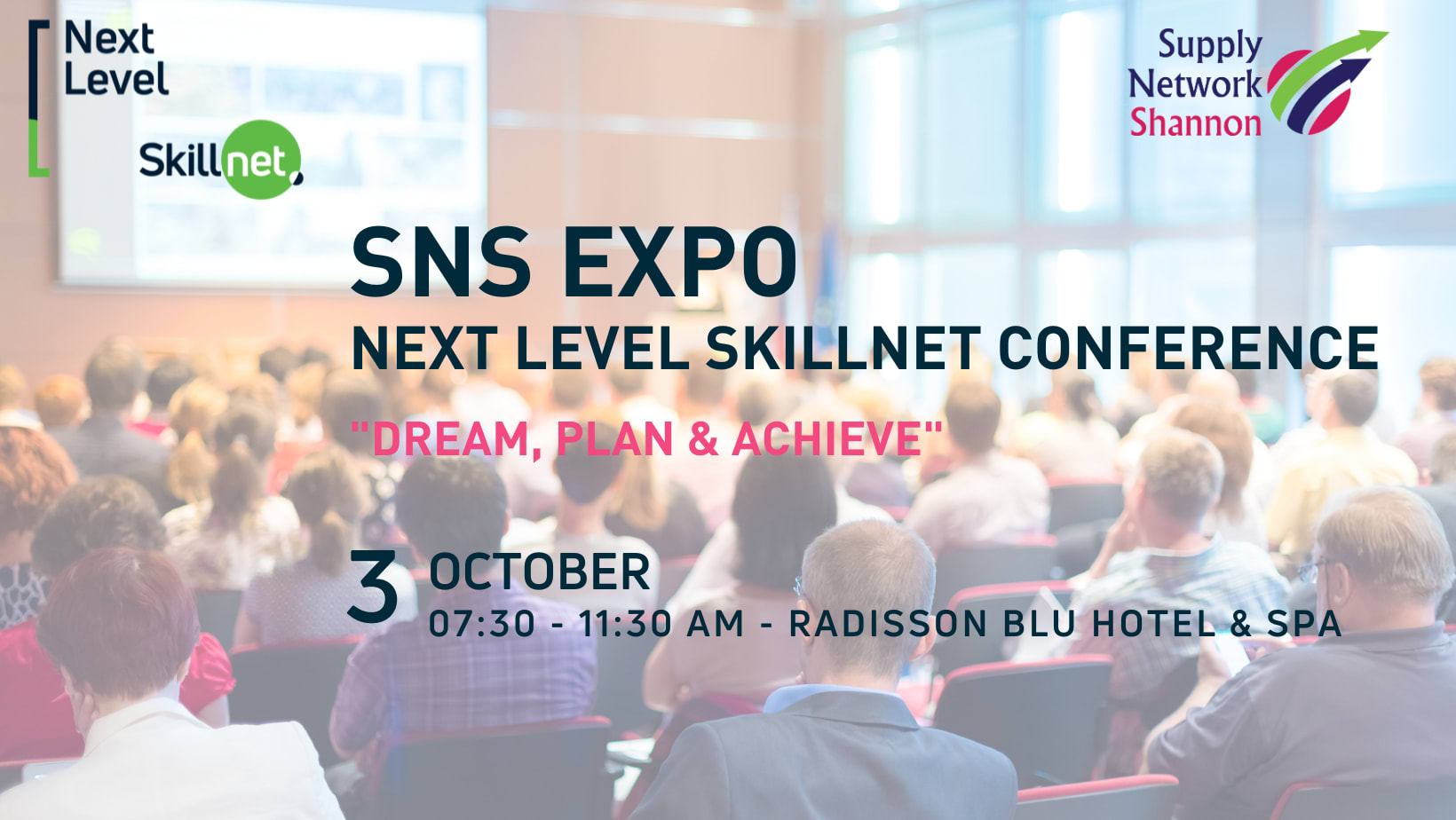 Full Speaker line up announced for SNS Expo & Next Level Skillnet Conference 2023
Thu Aug 24 2023
We are delighted to confirm our full Speaker Line up for "Dream, Plan & Achieve".
The event which is once again being held on 3rd October in the Radisson Blu Hotel & Spa in Limerick will take place from 07.30 am to 11.30 am in the Ryan Suite.
Keynote Speaker: – Dr Karen Weeks
We are delighted to confirm our Keynote Speaker for our 2023 Conference will be Dr Karen Weekes. Karen became the first Irish woman to row solo and unsupported 3,000 miles across the Atlantic Ocean as part of the 'SHECANDO2021' campaign.
Guest Speaker:- Val Quinn
We are delighted to welcome Val Quinn, Business trainer and Executive and life coach, and former Managing Director, The Coca-Cola Company to our guest speaker line up for our 2023 Conference.
Val held various roles whilst working 17 years for The Coca-Cola Company. Her roles included 4 years as managing director of the Irish business, nearly 9 years as Global Customer Director managing the Foodservice and subsequently the Petro-Retail channel. Her final role with Coca-Cola, was as managing director of Costa Coffee responsible for Central and Eastern Europe. Since leaving Coca-Cola in 2021, Val has launched her own business as Business Trainer as well as an Executive and Life coach ([email protected])
Val became a Global Ambassador for Vital Voices in 2019 and continues to play an active role. She is also involved in many pro bono and charitable works including Social Entrepreneurs Ireland and as well as being on the Board of Cricket Ireland in a voluntary capacity.
We are delighted to welcome Aoife O'Sullivan to our guest speaker line up for our 2023 Conference.
Guest Speaker:- Aoife O'Sullivan
Aoife is the Head of Network Development and Innovation with Skillnet Ireland Ireland where she oversees the management of 70 Skillnet Business Networks across a range of industry sectors and regions.
With over 15 years management experience, Aoife has a strong track record in relationship management and strategic communications. As a senior manager in the public and private sector, Aoife has gained a solid understanding of the development and learning needs of companies at various stages of their growth lifecycle. Aoife holds a Post Graduate Diploma in Multimedia and an MA in Communications & Cultural Studies.
Guest Speaker:- Bevin Mahon
Bevin is a Passionate Leader, Entrepreneur, International Business Coach, Business All Star & Fellow and the Owner/Managing Director of Dentaltech Ltd. A Digital Transformer. Wife and Mother to 3 teenagers.
With Bevin at the helm, Dentaltech has become a multi-award winning company and is the largest service provider and manufacturer of removable partial and full dentures in Ireland, ensuring people have access to an improved quality of life to eat, speak and smile with confidence, through Dentaltech's own clinics and portable services to nursing homes and home care as well as manufacturing for several hundred dentists and dental practices around the country. Proudly the first lab to be LDP certified outside of the USA and Canada.
Over the years Bevin not only grew the business but she herself continued to grow and develop her own skillsets and qualified as an employee engagement coach in 2017. Bevin participated in numerous entrepreneurs and scaling groups including Going For Growth to which she is now a proud Ambassador, the Global Ambassadors Program which is a Vital Voices program in partnership with Bank of America. And in 2019 Bevin won a place on the EY European Winning Women program and is an active member of the Alumni. Bevin has won the Graham Norton Gin Inspiring Women Awards for Healthcare Pioneer, was a finalist for the Irish Inspiring Women Awards has been awarded the All Star Inspiring Business Leader for 2021 and was awarded an All Star Fellow in 2022.
With Dentaltech nearing its 50th year in business, Bevin led and completed a full digital transformation with her team around their manufacturing and service provision, transitioning from the very traditional denture manufacturing to scanning the mouth, CAD designing the dentures and then 3D printing. This new digital technology allows for more accuracy, faster turnaround and has opened the doors for new product development including their Truefit range of Dentures, and for the first time spare dentures at the click of a button.
Bevin is positioning the company for national and international expansion, having opened 3 more locations last year and she is super excited to share her journey at the Next Level Skillnet Conference in October 2023.
To reserve your place at this free event please contact Sue Davies on 086 021 4825 or email [email protected] or register for free via Eventbrite